Russell Athletic is a timeless American sports and leisurewear brand. It is proud of its past, but has its eyes firmly on the future.
Behind the Russell name and brand with its iconic Eagle R logo lies one of the most enduring legacies in classic American sportswear. Since its foundation in Alexander City, Alabama in 1902, Russell Athletic has helped to define how America looks, feels and plays. After all, it was at the renowned Russell Cotton Mills where the sweatshirt and the T-shirt, two of the most emblematic items in the history of American clothing, were first invented nearly a century ago. Ever since, Russell and its iconic Eagle R logo have been at the forefront of both the sporting scene and youth culture trends, be it as a supplier of uniforms for Major League Baseball and the NFL, or as a key player influencing the music and streetwear culture. of the 1990s.

OUR PLEDGE
To never compromise on quality. To continue to be inspired by design, innovation, and the enduring ethos of American sports and college culture.

KNOW-HOW
Against all the odds, Russell Athletic forged a cotton industry in sleepy, rural Alabama. In 1902, pioneer industrialist Benjamin Russell bought a bankrupt cotton mill on a rock by a deep ravine. From here on, the Russell Dynasty had cotton in its veins.
By 1930, it was one of the first textile companies in the world that had completely vertical operations. This means that everything, from growing the crops to bleaching, assembly and finishing was carried out on-site and to meticulous quality control. Research and investment in new machinery and processes never ceased at the mills, and today this accumulated experience and know-how speaks for itself.

THE INVENTOR OF THE SWEATSHIRT
The breakthrough moment for Russell Athletic arrived in the 1930s when quarterback Benjamin Russell Jr. asked his father to develop an alternative to the uncomfortable woollen jerseys worn by football players.
Perhaps he had no idea that the result would be the classic, ribbed neck sweatshirt, probably the most enduring fashion icon of all time. It was the first garment to be produced in Pro Cotton - a soft, weighty fabric that withstands hard knocks, heavy sweat and frequent washes, and is still exclusive to the Russell Athletic brand.

AN AUTHENTIC AMERICAN ICON
The Russell Athletic eagle goes way back to 1906, when the company was just four years old. An American eagle with uplifted wings was printed on the company's letterheads; a bold choice, but one that came to represent Russell Athletic's ambition and soaring success in the years to come.
In 1969 the logo underwent another transformation, in keeping with modern times and an emerging youth culture. The leg of a bold Gothic 'R' typeface became the profile of defiant eagle, a flourish that suggested vigor and bravery – values that are still relevant today.
In the 21st century, the Russell Athletic Eagle R logo represents more than just a brand - it's a hallmark of authenticity and quality.

A RICH SPORTING HISTORY
The high quality cotton goods produced at Russell Mills found a new market in the early 1930s, when it was under the direction of Benjamin C. Russell, a well-known fitness fanatic.
With superior, durable cotton fabrics and high tech printing processes, the company found a natural home on America's playing fields. It became the official supplier of uniforms for college sports teams and 15 Major League Baseball teams, including the Atlanta Braves, the San Francisco Giants and the mythical New York Yankees. Russell Athletic became as ubiquitous to a ball game as hot dogs and soda.
In 1960, with the company's reputation for excellence in sports attire firmly established, it changed its name to Russell Athletic.

FROM TRACK TO STREET
The rise of hip-hop and rap in the 1980s and 1990s gave the world more than a new form of music. It led to the rediscovery of classic sportswear brands as artists made athletic apparel their own. The Russell Athletic brand was embraced by musicians, graffiti artists and lovers of urban culture alike. It became a lifestyle brand without losing sight of its sports heritage.
The Russell Athletic brand keeps this ethos alive with clothing that prioritizes comfort and quality over trends. The sweatshirt was invented for a college football team after all. Seasonal colours, details and finishes create a look that is relaxed, somewhat nostalgic, and effortlessly cool.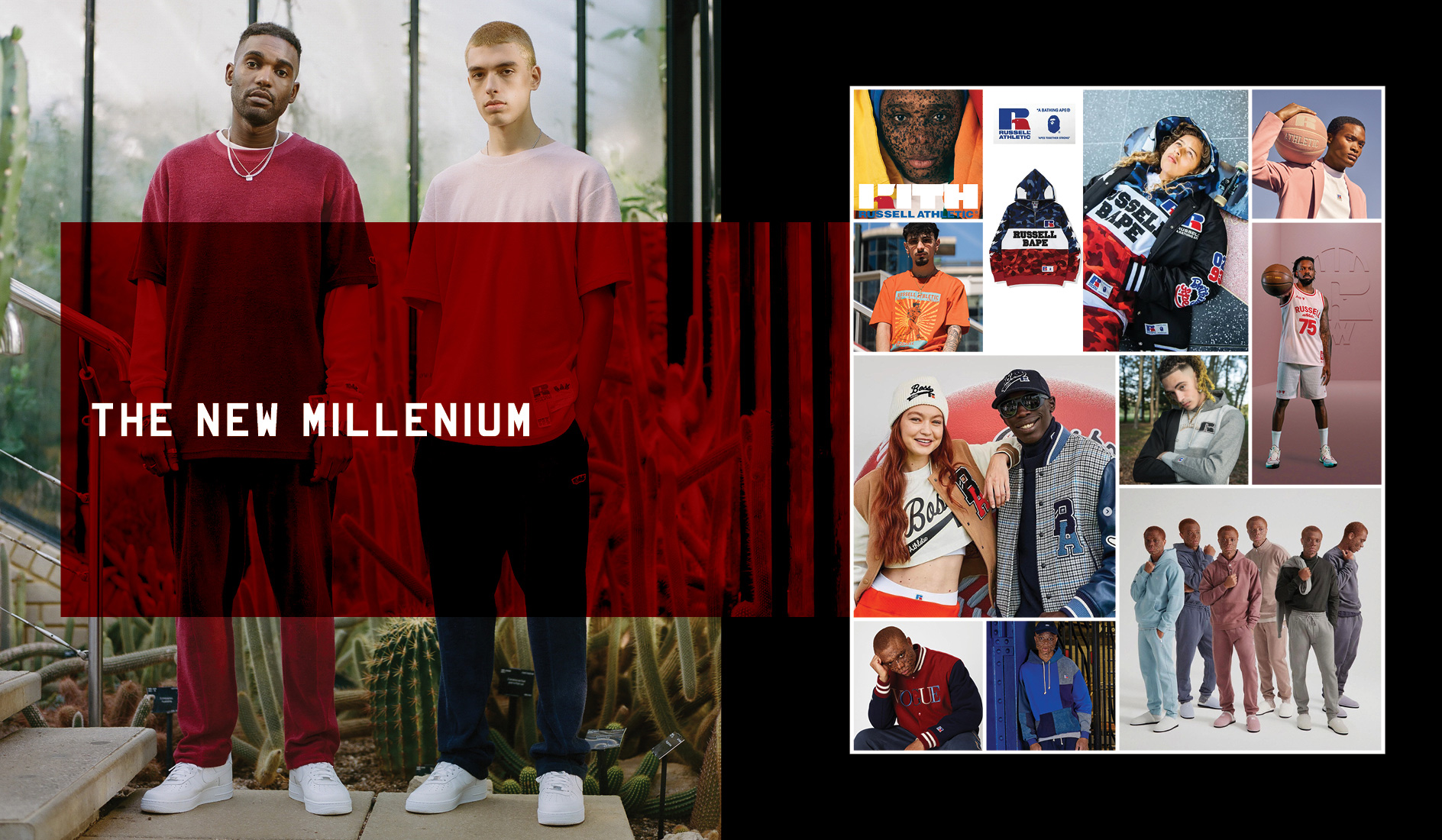 Russell has never forgotten that its products are only as good as the people who make them.
As we celebrate over 100 years in business Russell Athletic looks to the future with the same sense of excitement
and purpose that has driven the company since 1902 from sweet home Alabama.

PRIVACY NOTICE
Introduction
The protection of your privacy is important to Future Brands Limited. This statement discloses the personal data practices of Future Brands Limited, including what type of data we may collect, process and hold, how it is used and with whom the data is shared. It also explains how you can contact us if you have any queries or concerns about your personal data.
This Privacy Statement is applicable to personal data collected and processed by Future Brands Limited. In order to help you understand how we will use the personal data you provide, the following guidelines have been created.
Our reasons for collecting and processing personal data
In general, it is possible to access our sites without supplying any personal data. The reasons and ways that we will collect and process your personal data online are the following.
Making an online purchase on our website
Your personal data will be collected and processed in order to perform our contractual obligations and best provide the services you might request, for instance: supplying our goods and/or processing the transactions. Personal data collected at this point and stored by Future Brands Limited includes: full name, email address, telephone number, billing address, delivery address, and payment type. In addition to this, the following personal data will be collected and stored by the payment provider, being either SagePay or PayPal: full name, email address, telephone number, billing address, delivery address, payment type, payment card details.
Your email address will not be used to send you marketing emails unless you have specifically consented to this, for example, by entering your email in the Subscribe box on our website.
Creating an online account
If you choose to create an online account, either of your own accord, or during the online purchase process, the following personal data may be collected: full name, email address, password, telephone number, billing address, delivery address.
Subscribing to marketing emails
If you choose to subscribe to Future Brands Limited marketing emails you will receive emails regarding new products and services, promotions, competitions, and similar information. At the point of subscribing, we will collect and process your email address. You will then receive an email asking you to confirm your subscription/consent. You must click the link in this email to verify your email address.
Once your subscription is complete, you will be asked to provide the following additional personal data: full name, gender, date of birth, country of residence. From time to time, you may also receive links to surveys, polls or competitions which request additional personal data from you.
As a subscriber, you are under no obligation to provide any additional personal data and can remain subscribed to Future Brands Ltd emails providing only your email address. You can unsubscribe at any time using the Unsubscribe link in the footer of every Future Brands Ltd marketing email. If you choose to unsubscribe, your personal data will be automatically removed from the Future Brands Ltd subscriber database.
Unless required to do so for the performance of our contractual obligations, or by law and/or for reasons set out in this policy, we will not share, sell or distribute any of the data you provide to us without your consent. If we ask you to provide personal data so as to comply with a legal requirement or to perform a contract with you, we will do it with your consent given under this policy. Please be informed that your contact details including your name, postal, phone and email address may be collected by us for the aforementioned purposes and strictly in accordance with the legal grounds set out in General Data Protection Regulation (Regulation (EU) 2016/679) ("GDPR").
Website Cookies
Please refer to our Cookies Policy page for more information about what data we collect via cookies. Our Cookies Policy also explains how you can disable and how to delete any cookies we currently store for you.
Personal Data storage, disclosure and security
The personal data collected by Future Brands Ltd may be transferred, stored and processed fairly and lawfully inside or outside the European Union but only in accordance with the provisions of the GDPR. Future Brands Limited employ security measures to protect your Personal Data from access by unauthorised persons and against unlawful processing, accidental loss, destruction and damage. However, we cannot guarantee the effectiveness of these safeguards, and nothing in this notice shall be construed as an express or implied warranty against loss, misuse or unauthorized access, disclosure, alteration or destruction.
Service providers who might have access to your personal data in order to provide services on our behalf will be contractually obliged to keep such data in confidence, implement adequate data security measures, and may not use that personal data for any other purpose.
We will retain your personal data for a reasonable period or as long as the law requires and as indicated in the data retention section of this policy.
Your consent
By submitting your personal data, you consent to the use of that data as set out in this policy.
Your data protection rights
If you wish to access, correct, update or request deletion of your personal data, you can do so at any time by contacting us using the contact details provided on our `Contact Us` page.
In addition, you can object to the processing of your personal data and ask us to restrict the processing of your personal data. Again, you can exercise these rights by contacting us using the contract details provided on our `Contact Us` page.
You have the right to opt-out of marketing communication we send you at any time. You can exercise this right by clicking on the" unsubscribe" opt-out link which can be found in the footer of every marketing email we send you as explained above.
Similarly, if we have collected or processed your personal data with your consent, then you can withdraw your consent at any time. Withdrawing your consent will not affect the lawfulness of any processing we conducted prior to your withdrawal, nor will it affect processing of your personal data conducted in reliance on lawful processing grounds other than consent.
You have the right to complain to data protection authority about our collection and use of your personal data. For more information, please contact your local data protection authority.
We will respond to all requests we receive from individuals wishing to exercise their data protection rights in accordance with the GDPR and other relevant data protection laws.
Data retention
We strive to maintain the reliability, accuracy, completeness and currency of Personal Data in our databases and to protect the privacy and security of our databases.
We retain personal data we collect from you where we have an ongoing legitimate need to do so, for instance:

to provide you with the product or service you have requested us to provide;
to perform our contractual obligations to you;
to comply with applicable legal, tax, or accounting requirements;
to defend or manage any claims or complaints between us, you and relevant third party including taking legal advice in respect of any claims in order to establish, exercise or defend our legal rights or such claims.
When we have no ongoing need to process your personal data, we will either delete or anonymise it, or if this is not possible (for instance because your personal data has been stored in backup archives) then we will securely store your personal data and isolate it from any further processing until deletion is possible.
Governing Law
This privacy policy forms part of our Website Terms of Use and as such shall be governed by and construed in accordance with the laws of England & Wales. You agree to submit any dispute arising out of your use of this Website to the exclusive jurisdiction of the courts of England & Wales.
Updates to this Notice
If Future Brands Limited changes its privacy policy it will post the changes on this page, and may place notices on other pages of the website, so that you may be aware of the personal data it collects and how it uses it at all times. Please note that continued use of the service will signify that you agree to any such changes.